Pierre F. Goodrich, an Indianapolis businessman and lawyer, founded Liberty Fund in 1960. Upon his death in 1973, Mr. Goodrich left most of his estate to the Foundation for the purpose of exploring the many dimensions of liberty.
This interest is reflected in the name he chose for the Foundation. The Liberty Fund Board of Directors and staff are guided by his philosophy and instructions in developing specific programs.
Mr. Goodrich, a man of extensive intellectual interests, reflected deeply upon the human condition. He read widely in the Great Books tradition. Authors he frequently recommended include Aeschylus, Thucydides, Cicero, St. Augustine, John Locke, Adam Smith, William Blackstone, James Madison, Alexander Hamilton, Goethe, Lord Acton, F. A. Hayek, and Richard M. Weaver.
Mr. Goodrich observed that human beings are far from perfect and have only a partial understanding of their own nature. Institutions, in turn, are fraught with imperfections. He was particularly concerned that intellectual hubris leads to pretensions of certainty about the nature of the world and to preposterous and dangerous "solutions." This abuse of reason leads to restrictive institutional arrangements that concentrate political economic power. Such concentrations invariably erode liberty and moral values.
The responsible course of action in an imperfect world, Mr. Goodrich believed, consists of making those choices that favor liberty from among the imperfect options available. A commitment to liberty in all its dimensions (intellectual, religious, economic, and political among them) offers the best chance to fragment and decentralize power and to release individual, creative initiative. A free society may maintain and enhance individual liberty and excellence, a genuine concern for others, a framework for social order, and economic well-being. Mr. Goodrich believed that education in a free society requires a dialogue centered in the great ideas of civilization. He saw learning as an ongoing process of discovery, not limited to traditional institutional settings or specific ages. Education is, in his view, a lifelong responsibility of each individual. Liberty Fund continues in the conviction that the best way to promote the ideal of a society of free and responsible individuals is through full and open discussion among people of varying ages, backgrounds, and occupations. As a complement to that process, Liberty Fund publishes books that are essential elements in the discussion of liberty and responsibility. It also employs visiting scholars and postgraduate scholars to aid its program development.
Liberty Fund designs its programs to promote this exploration of ideas and intellectual discourse. By provoking thought about fundamental themes in many disciplines and areas of investigation, the programs of Liberty Fund seek to contribute to the understanding and appreciation of individual liberty and human responsibility.
In accordance with the ideals of Mr. Goodrich, Liberty Fund is intellectually and uncompromisingly committed to liberty.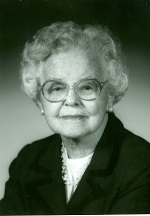 Enid Smith Goodrich (1903–1996) of Indianapolis received a resident nursing degree from St. Vincent Hospital and a bachelor's degree from Case Western Reserve University in Cleveland, Ohio. She married Pierre Goodrich in Chicago in 1941.
A founding lifetime board member, vice chairman, and director of Liberty Fund, Mrs. Goodrich regularly attended board meetings for more than 25 years. She was also a director of her husband's other foundations, Thirty Five Twenty, Inc., now known as The Goodrich Foundation, and the Winchester Foundation.
After her husband's death, Mrs. Goodrich continued to be active in philanthropic circles in the Indianapolis area. She was a longtime member of The Propylaeum, a trustee of the Indianapolis Museum of Art, and a member of the President's Council at Conner Prairie, a restored pioneer village.
A substantial contributor to many organizations, Mrs. Goodrich was the 1994 recipient of the Individual Philanthropist Award by the Indiana chapter of the National Society of Fundraising Executives. In the same year, Mrs. Goodrich was named a Sagamore of the Wabash, the state's highest civilian honor.